Documentary Strategies in Communities:
A Conversation between Artist-Neighbors from Davao and Kota Kinabalu on their Lens-Based Practices
By Abraham Garcia Jr. and Christopher Charles Pereira
For the last five years, art communities connected by the Sulu Zone are bustling with artist-initiated projects with support from state-sponsored engagements in contemporary art. These are exhibitions on artistic practices which are beginning to from, photography included. The latter became a forefront in current artistic practices that culminated in recent engagements around the East ASEAN Growth Area (EAGA) such as in General Santos City and Zamboanga, Philippines in 2017 and Kuching, Malaysia in 2019.
Sharing in this ongoing journey is Abraham Garcia Jr., a Davao-based practicing visual artist-photographer, art educator at the Ateneo de Davao University, and cultural worker doing doctoral research at the Queensland College of Art (Griffith University) in Brisbane, Australia since 2018 and until 2022. His recent photographic works focused on reframing identity. His other interest is doing sustained cross-border engagements among artistic neighbors in Mindanao and nearby Southeast Asian nations — an idea conceptualized in 2013 and came into fruition in 2015.
In the first "Under One Sky" exhibition in 2017 in General Santos City, Chris Pereira, a Kota Kinabalu and Labuan-based artist was featured. Pereira ventured into photography after he was inspired by the photographic adventures of storytellers in the National Geographic. In 2010, he went to find his own way of capturing images, utilizing prime lens to shoot and by playing with limitation and imagination. He began experimenting through portraits in weddings and corporate commissions and eventually found his own visual language on the streets through a minimalist method of capturing life scenes.
These two photographers shared their experiences and insights particularly their recent engagements in their respective communities. They also shared differing persuasions in art through lens-based practices through these conversations:
When was your first encounter with photography in your artistic practice?
Garcia: I recall as a second-year high school student at the Philippine High School for the Arts in the early 1980s, film photography was introduced as an added practice where we can explore visually. With no camera of my own then, I had to borrow my classmate's camera which is an Amuer Calderon's Pentax K1000. Fortunately, when I got to visit my hometown, I was glad to find my father's rusty Canon FX SLR camera already accumulating mold in storage.
Furthermore, we had an elective on darkroom photography where we learn how to develop black and white film, make contact prints and do test prints on enlargers, and finally know how to create prints on different types of photographic papers. I know this language is quite foreign now for most digital photographers where the darkroom has now shifted to the digital realm using Photoshop or a similar software and print the images on an inkjet printer (giclée). Even in Davao City, I haven't heard of a photographer still doing darkroom work – maybe Arnel Villegas – these days. Commercial photographers and photojournalists have shifted digitally due to speed of showing the images to their clients and the internet respectively.
Pereira: I started by borrowing cameras from whoever had one to loan for my use. I would shoot without knowing what I was doing. It was literally learning on the go. I tried not to study styles of other photographers but more on their philosophy and methodology instead. Coming from music production, I had this fear of unintentionally copying their style instead of creating my own. So, a lot of my early images was figuring out what I like with photography and understood why I was drawn to those images. This is also saying a big thank you to my friends – Julian Lee, Nadira Ilana – who would lend me their photographic gears for free for so many months of use. I would shoot everything and anything, creating stories first in my mind and just let my imagination go wild and see everything through these image making tools, like it was the first time seeing them framed that way. The camera and lens allowed me to see things beyond my eyes.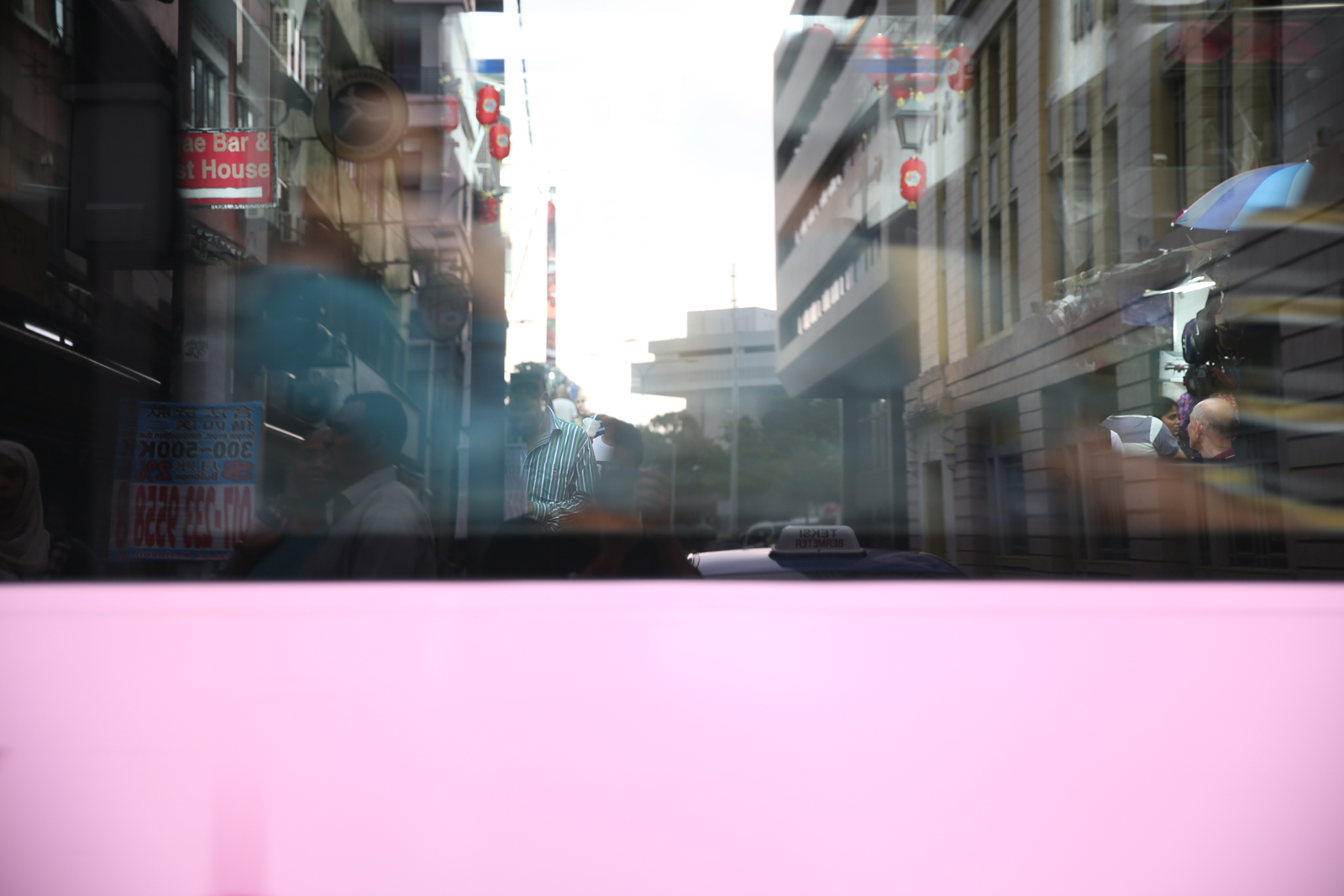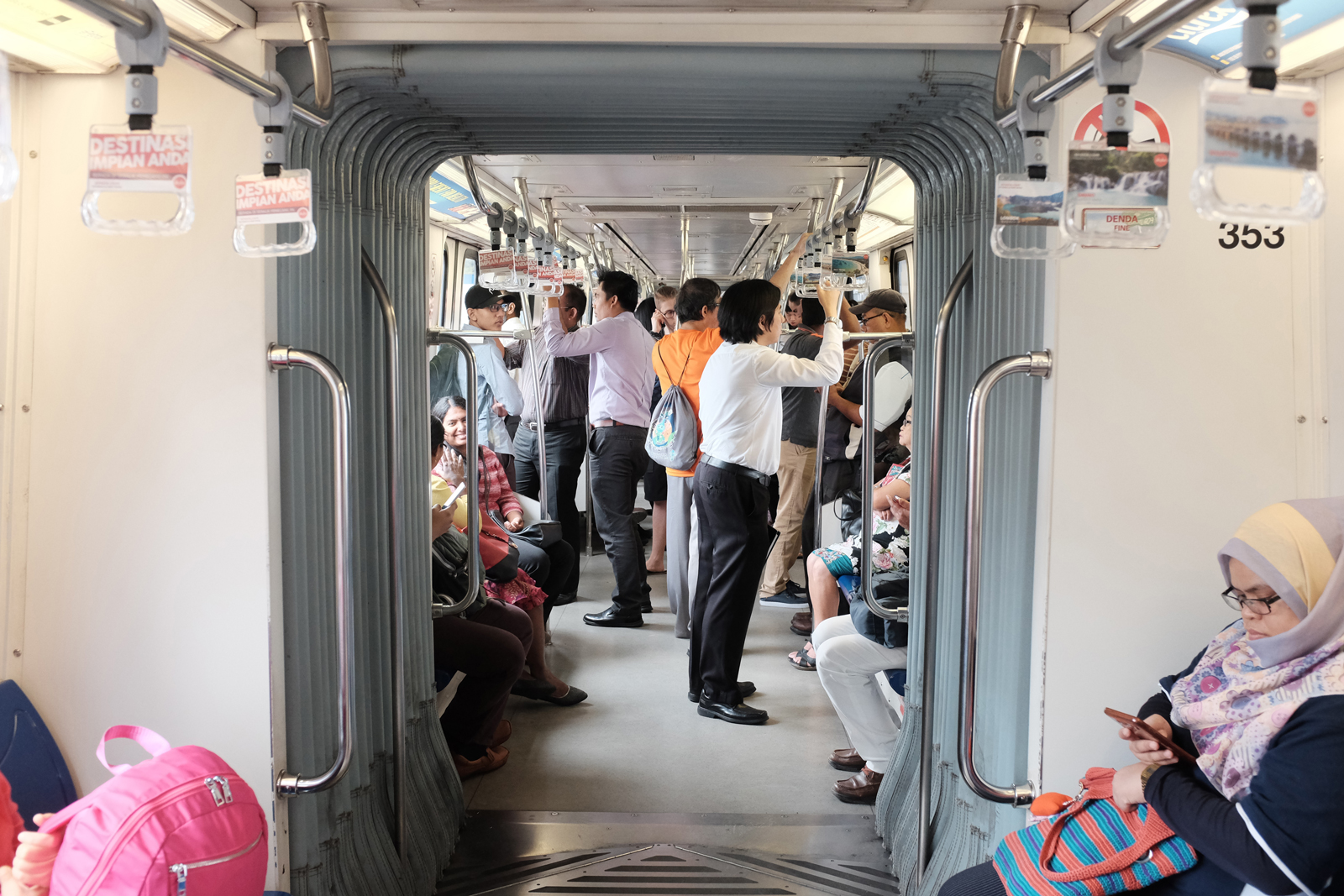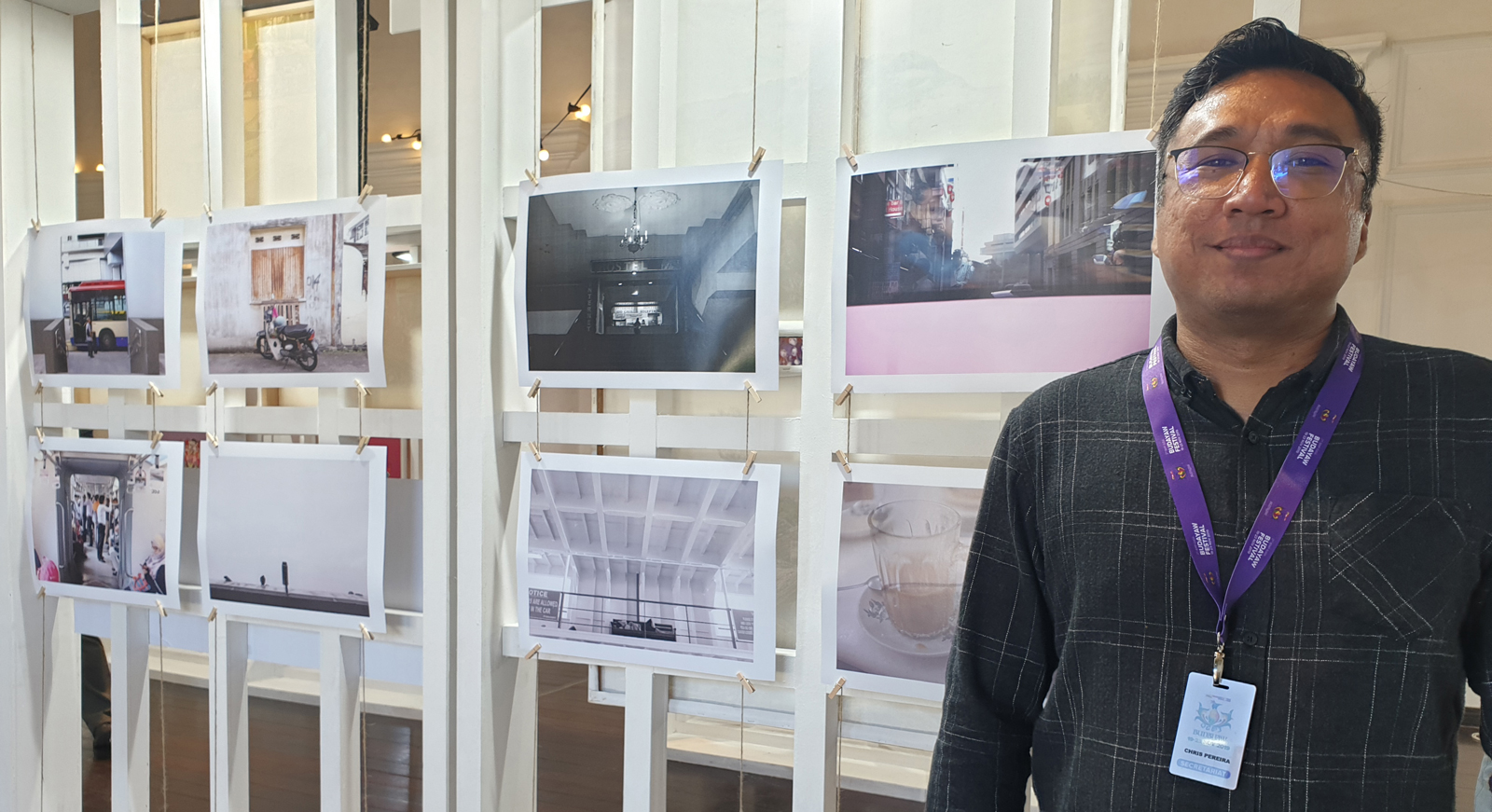 Do you have mentors in photography?
Garcia: Almost 40 years ago, we learned the basics of darkroom photography from Prof. Emmanuel "Sir Noli Garalde" at the College of Fine Arts of the University of the Philippines in Diliman. Another "mentor-on-the-go" was seeing the printed photographs of Ian Victoriano, a practicing visual artist, using his grandfather's Topcon SLR camera. His images demonstrated that photography is painting with light and learning to visualize the scene in the frame and how to translate that into film.
I was surprised as a painting student that photography was not part of its course works. Unfortunately, it was only offered to advertising majors but that didn't deter me to pursue it even unmentored, where I have my Necopans, Tri-Xs, and Ilfords developed and contact printed at Island Photo in Quiapo, Manila. Still my Canon became a tool of documenting and remembering of lived experiences and helped me in my painting program on a personal way of exploring the visual arts more.
Pereira: What made me sustain my early photographic practice was the excitement. That raw feeling of excitement you get from discovering something that blew your own mind. Being able to take something people see as nothing and transferring that on print and have emotions coming out of it, that's rush! That image making process kept me going, where I deliver stories without having to spell it out.
What was the experience in your first photographic community?
Garcia: I don't have a purely photography community to speak of, even when I studied fine arts. I was and still among peers in the visual arts. The creative process was more of looking for art in photography by playing the materiality of the medium, more than its pictorial sense. Photography is my go-to self-expression medium along with mixed media works, sculptural pieces and use it as an installation piece. It is part of the diverse visual art disciplines along with related art forms–painting and printmaking.
Pereira: I tried of being part of a group of photographers. Really, I did but it was so toxic and had to choose "my way or the highway" that I just didn't bother to pursue it. I joined one – an online forum and eventually gave up. There were groups in Sabah who do shoot as a group. I found their sessions together as counter intuitive to how I wanted to be a photographer, where members seemed more caught up with the gear than actually capturing moments. The discussions among them felt very much like "how did you take this" and not enough of "why" you made the photograph. I'm not downplaying the "how" in photography but I personally feel the "why" or reasons for creating leads more rather than the "how" of the creative aspect of image making.
How did photography become an important aspect in your professional artistic practice and in creative projects?
Garcia: When I worked as a publication designer for a non-governmental organization Alternate Forum for Research in Mindanao, Inc. or AFRIM from 1990, photographs became essential to illustrate publications such as newsletters, popular comics, journals and books on socioeconomic articles by our researcher-writers. For example, I initially used found images from old Philippine historical books bought from a local school library and create photo illustrations using copiers and correction paint besides hand-drawn illustrations.
Equally important in the mid-1990s was when a couple of our (Juria and I) friends (Jes and Des Lopez and Ces Desesto) bought second-hand darkroom equipment to run PilakLab ("pilak" alludes to the silver halide crystals on film) in a tiny rented space in AFRIM. The early income came from black and white darkroom workshops with mass communication students. Despite this, the income just made way to pay rent and consumables (photo paper and chemicals) and we have to close shop. Though, some printing services were done for an issue of the Mindanao Focus Journal of AFRIM. It was not a sustainable venture when the workshop proposition was just a one semester experiment. However, all these knowledge on film were translated to lectures and studio work (shooting only and processed in shops) with fine arts students of the Philippine Women's College of Davao.
Pereira: It became part of my artistic practice as an escape from music. My main income at that time came from running a recording studio—recording and producing sessions, mixing and mastering, also talent management. It came to a point I needed to clear my head and have a fresh approach to things. Music went from a passion to a job which I love but at times killed the inspiration. Photography was the one thing that brought me joy outside the studio. It allowed my mind to explore a different set of creative approaches to roadblocks. If I couldn't nail a mix, I would take my camera, regardless what hour of the night it was and just walk around and shoot whatever I see that comes by. The photo break freshened my mind and it allowed creative juices to flow out of my mind. The process made something that helped feed my soul.
Photographic images in EAGA highlights different indigenous cultures from your local communities, whether it is rural or urban setting. In the latter, there is also an evolving contemporary culture that intersects with locales, which include migrant communities peopling your respective lands. Have you made images in these various layered contexts?
Garcia: When I got a new film camera from my aunt Alice Cruz, this tool helped me evolve sort of as a documentary photographer. I was part of a team on a fieldwork in Zamboanga del Sur to do social documentation of the Subanen (the people of the river) living around the municipalityof Lakewood with researcher-writer colleagues. The Subanen is one of the first indigenous people (IP) that populated western Mindanao.
The situation that time was prior to the Indigenous Peoples Rights Act of 1997 or the IPRA Law (Republic Act 8371), where the civil society (the NGOs, cultural workers, and artists) is in solidarity with IPs, supporting the acknowledgement of their communal lands, pursue a livelihood as farmers, and to let their cultures take root and thrive in Mindanao. During the mid-1990s, an administrative order of the Department of the Environment and Natural Resources created a Department Administrative Order no. 2, series of 1993 that helped in the identification, delineation, and recognition of ancestral land and domain claims. It is in this situation that the Subanen of Lakewood filed claim in proving their connection to their lands.
We were welcomed by different local leaders (timuays) in various barangays and members of their communities as they were made aware of these recent developments. My images in that initial research visit was published in the Mindanao Focus Journal. The experience gained, was how images gave voice to the Subanen, treating them as fellow Filipinos.
In another similar experience, as a university researcher with the Dulangan Manobo of Kulaman Vallery in Sultan Kudarat province, I was a photographer assistant of Prof. Jose Alberto Tañedo, who conducted a film photography workshop with the Redemptorist Itinerant Mission Team and the civil society (NGOs, fellow religious communities, and the laity), educating them on DENR's DAO-2 (1993). This was also done in the indigenous peoples of Sen. Ninoy Aquino town in the same province. All were learning to do better in the documentation needed which was helpful in DENR's DAO-2 application. This workshop not only highlighted how to achieve correct exposure and composition but created stories through social documentation.
Pereira: I felt I haven't done enough in using my photography in this regard to highlight local communities in this part of Malaysia. I've been selfish as I view photography to be about what I want and what I see.
However, there is the urge to highlight people that should be highlighted. At the moment, I use the streets of Kota Kinabalu as the backdrop to my portraits and push people to see the beauty the place has. The city as an urban setting is also a site of human activity though no different from rural spaces.
For people and communities, I personally feel myself as an outsider to the communities and when I do go and immerse myself in them, I go as a person not a photographer. For now, the community I photograph are the creative communities – the musicians and visual artists of Kota Kinabalu and Kuala Lumpur.
Thinking about it again, I feel comfortable in certain spaces where most are uncomfortable. With that saying, I would love to do one on stateless kids like in Palau Omadal, for they are also human beings and to show them that they are like any other local children. What makes them different is their situation – innocence coupled with not knowing what the future holds and problems they will eventually face – to give this "annoyance" towards the state a face and a life that these people deserve. For now, my photography feels very selfish and for myself, to see and remember what I want to, versus what I need to.
My other engagement is humanizing people in the corporate world. I do show more of people versus charade. I strip them of their titles and show them as persons – someone who laughs, who can be caught having screwed up face reactions and yet still find humor in the photograph and allowed it to be used.
Furthermore, being aware that photography has many uses in the community, what are the groups that use photography in your hometown or city? Have you engaged with these groups in your artistic/photographic practice?
Garcia: I was not affiliated to any photographers group in Davao. The closest thing that I engaged with photographers was when I helped twice in organizing the early iteration of the Hulagway sa Dabaw (photography competition) during the Kadayawan sa Dabaw Festival in the mid-1990s, where local photographers still use film cameras. They came from various groups of enthusiasts and clubs, the studio and park photographers, and commercial photographers.
The Kadayawan is a tourism-driven festival of Davao City celebrated every third week of August. A Mandaya (an IP group in the Davao region) word, "madayaw" is a greeting that is synonymous with "good, beautiful, and valuable." The festival is a celebration of local and indigenous cultures and the appreciation for the harvest and bounty of nature.
During the third weekend of August, the photographers focus on the Indak-Indak sa Dalan (street dancing competition) and the Pamulak sa Kadayawan (floral float parade) where they capture the festive spirit of street performances. The enlarged photo entries (at least 8X10s) are publicly exhibited and people looking, relive the burst of colors, dynamic movements, and reimagine the floral designs made on the floats.
I mentioned these groups of photographers because they are the reason why the lens-based medium has become popular among the local people. They made photography accessible and the printed images find their way in family albums or displayed in living rooms. Even in the age of selfies, I still see a few park photographers lugging their retired SLRs on their necks to tell people that they are maniniyot (photographers) for hire. If somebody would ask for their portraits at Quezon Park in Davao, they would pull out a digital camera from their canvas bags and click!
Pereira: There are photography groups in Sabah. I just don't align with their individual goals. It's worse when a group with having different members and equipment, mount an exhibition. The photos look all similar. It's more of a herd mentality you see and not individuality. The group I feel, and this is just my personal take, do not do it for art or for the passion of imagery. Take for instance a group of people shooting a model in bikini or only allow for a single branding? Or let's say a group that only follows one voice where there is no discussion or experimentation. There is no art. I feel as a person of my own voice. I should show what my eyes and mind personally see and imagine and not highlight how good the photo looks because of the equipment I use. It should show the "whats" and "whys" of your vision.
So, now you know the reasons I don't join groups. I know of individual photographers even though we seldom do photo walks or shoots together. What's more important is that we have more relevant conversations on what photography means to us. Photographers like Azwan Mahzan aka Wordsmanifest who let me feel what street photographer was about – how just walking around and letting your eyes see whatever it wants to see, how to let your emotions let you pause and feel the shot. Another photographer is Amri Ginang, Sabah's premier fine art and street photographer, enabled me to have confidence in my style and be even more laid back with the medium. It is changing the mindset from "how did you take this shot" to 'what is in the shot." Be aware that what makes the image creates more impact. These are all learnings – framing and composing a story in less than a minute from seeing with your eyes to imagining and pressing the shutter. Both of these great photographers focus what is at hand and not on what it is in your hand. That's what I feel when shooting with a camera. Being constantly in touch with Azwan and Amri, I have learnt so much about photography as opposed to just learning how to take a photo.
How did you all gather together through photography in these cross-border projects for Budayaw Festival of Cultures in General Santos and Kuching and in Silingan Seni in Zamboanga?
Garcia: Working through photography didn't come into the picture (pun intended) yet, when I was invited to be part of the co-curatorial team for the 2013 Singapore Biennale: If the World Changed. The idea of doing a cross-border art project between Sabah and Mindanao was borne out of discussions with co-curator and artist-photographer Yee I-Ilann on the historical tensions along the Sulu Zone. Eventually in October 2015, Juria and I did the artist reach-out project1 to meet members of Cracko Art Group and Pangrok Sulap in Kota Kinabalu and Ranau respectively in Sabah.. This activity gave birth to the idea of Silingan Seni (Artistic Neighbor), a cross border exhibition, conference and workshop at the Gallery of the Peninsula and the Archipelago in Ateneo de Zamboanga University from 24 to 25 October 2017, where the visual arts exhibition ended on the 17th of the following month. It was two years in the making.
Silingan happened after the first Budayaw Festival of Cultures in General Santos City in September 2017. Budayaw initially benefited from the artist reach out activity in east Malaysia and it reconnected me with an art mentor, Osman Mohammad in Brunei Darussalam and for the first time with curator, Anwar Rachman in east Indonesia (Makassar City). Thank you to Lin Chen-Wei of Outsiders Factory (Taiwan) for the artist link to Indonesia!
It was in the 2017 Budayaw that Chris Pereira, the co-curator for Malaysia, opened the idea to include photography in "Under One Sky" visual arts exhibition in order to further show more breadth of works that included paintings, mixed media, assemblages and sculptural pieces. The photographs from Sabah and Labuan reflect empathy in tragedies, highlighting common roots and ideals of the EAGA region2.
Pereira: I've felt, the eyes of the people looked at photography as pretty and not art. They find it hard to hold it as the same breath as other visual art mediums. I wanted to change that narrative. Why keep it separate when it is visual arts? That simple question was the reason I'm tired of photography being given a different space. I love it when non-photographers and other art practitioners look at photos and ask the artist who shot them inquiring, deeper and more emotional questions. I've had questions that made me question myself in a good way. To make it simpler, isolating and taking photography away from a room of visual arts practitioners doesn't make sense to me. Why need to segregate? It's visual, is it not? Don't make it like how they categorize music, where genre namers have created pockets of listeners who do not want to listen to another thing because of being labeled as such. Art is art. All art deserve space in the same room.
Can you share details on how your projects from your art communities engage together?
Garcia: The concept for "Celebrating Cultural Diversity" photography exhibition in the Budayaw 2019 in Kuching was the brainstoriming during Silingan Seni. The operating words were "local" and "streets." This idea came up when Chris observed that Zamboanga is like Sandakan – a compact city across the Sulu Sea in Sabah – minus the public tricycles plying the streets. He wanted that exhibition to highlight the natural state of the locales which are not all cities in the EAGA region, with organic images minus the idealized and desirability of tourist-laden images. And let the spectator unravel the similarities and uniqueness of our peoples and places.
With Chris' concept of showing multifocal views on photographs being practiced in Mindanao and the EAGA, the Philippine participation conceived the "to look after" idea where images attempt to generate empathy towards a fellow human being and the greater community and the spectator becoming an exemplar of participation, compassion, and solidarity. This idea would have created more impact if we get to bring in more photographers from the EAGA. However, we have to accept logistical limitations of the festival.
Eventually, the curatorial team featured two different types of photography. Fellow photographer, Froilan Osabel Gallardo is a Cagayan de Oro-based veteran photojournalist for MindaNews, whose images are social documentaries and a collective depiction of the Mindanao regional landscape, a local traversing the heart of strife and the celebratory, finding communal strength in beliefs and daily existence.
Second, the images I digitally printed on vinyl became art objects that highlighted the communal sites of interaction and mobility of people taken from different areas around Mindanao like inside public transport vehicles (tricycles and jeepneys), the barangay street as playground, engaging Sama Dilaut diaspora along the foreshore of Mindanao, and the night market preparations in Davao. The prints are sewn with vinyl cut-out design patterns inspired by the palikpik (fin) traysikol (tricycle) decorations in Digos, Davao del Sur.
Pereira: I do not want to show photographs that we are already familiar with as seen in tourism promotional materials. Instead, we should exhibit something that people do not see often much in Malaysia. I wanted to show the everyday life like living in an urban center, in our capital city that does not feel different from life in Borneo. I try to notice things, scenes, spaces as I walk by. For example, I did include the familiar facade of an old brothel structure just to test people's reaction on why I shot that frontage. To hear them say, "Oh those are nice chandeliers" and to be countered with "at a former brothel house" and observe them how they react at the photo differently, I like that.
Organizing and curating Celebrating Cultural Diversity was a challenge. We had a hard time getting our creative points across. From how we wanted to create the design in the gallery to the visuals we wanted to show. Partnership with the government also creates tensions in implementing the plans and what they wanted to portray. In the end, we had to compromise and just work with what we had at hand. It worked for the best within the logistical limitations.
Garcia: We didn't get to interact with some of the photographers from the other EAGA participants, maybe because they also have other Budayaw engagements. As we always go back to the exhibition site and hoping they would be there to interact with the locals and visitors viewing the works at the Old Courthouse. The Philippine and Malaysian photographers have continued to nurture camaraderie since General Santos and Zamboanga in 2017. One of them is Azize Mohd Yusoph of Labuan, who showed us a different way of presenting a photograph that alludes "to moments lost from memory." These photos reference hometown memories and people living in the island of Labuan and being in Sabah as well. This collection of works come from his desire to preserve important and beautiful moments that will eventually fade away in time. His exploration of paintography (digital photography plus digital painting) engage more deeply with viewers into his point of view of time and space.
What do you imagine photography to be now that we are in a global pandemic?
Garcia: Online photography exhibitions in social media and supplementary websites are the next best thing in a pandemic. However, the dream to do an outdoor exhibition for photography can still be realized in Budayaw 2021 in Brunei Darussalam and in multiple satellite sites in the EAGA.
If budget permits, the photographs can be translated to massive curated projections on public building and walls, facades and LED screens, where the spectators view it from a distance. Or as a more cost-effective exhibition, photographic images can be digitally printed in large scale vinyl prints and mounted at public spaces like key parks and esplanades, where people can gather in the outdoors despite the pandemic.
Pereira: I would like to echo Abe's propositions and push the envelope further for photo exhibition beyond just printing. While aesthetically prints can bring out the life of a photo, I feel having them projected beyond the limitations of what a photo frame is thought of, evokes and inspires other photographers and visual artists. Imagine walking through a hall and having the photos move as you do, changes as you go further in, projected so big, it almost like you are in it. Perhaps it is to give the viewer a different experience than just looking at a photo in a frame hung on a wall. It is a new time and age, a perfecting time to experiment on what isn't normal. I would like to do moving projection on buildings accompanied by traditional music, photography of the location before, say 50 years before, and project that image on the facades of buildings today. The challenge is time itself. Show growth, show loss and let the person feel what they feel. I would like to try, if travel is permitted, to get the photographers involved in the exhibition to do some photo walks and photo sessions. They would pick their top five images and do a talk for a day. All the representatives of EAGA talking about their five photos of Brunei Darussalam, and let that carry on to the next Budayaw in Bandar Seri Begawan.