Potentials for Cultural Work in Development
The experience of many artists in the Philippines and in Mindanao who joined the protest art movement during the Martial Law in the 1970s evolved a brand of activism called "Culture for Change and/or Development." Those artists, who carried these experiences, entered the mainstream institutions of the country. Now, they carry the same understanding of culture as a driver for change.
This brought a new concept of doing cultural work wherever the people are, thus the perspectives of cultural work expanded to include heritage and traditions, creativity, innovations, and technology. This likewise expands the players of the cultural field beyond the artists.
From the 1960s to 1980s, a band of social activists in and from Mindanao who had the gift of artistic expressions used these to express their stand on the on-going challenges brought about by Martial Law. They used literary expressions, theater, music, dance, and visual arts to depict messages of standing up for people's rights.
A segment of them trained local communities to use the tool and express their own issues, grievances, and aspirations. Soon, this became a movement which this band of artists calls the Mindanao Creative Drama Movement or the Mindanao Cultural Movement. This cultural movement was characterized by a body of works that varied in theme, characters, artistic genres, forms, and approaches. All of these works were wrapped in one banner message: Change the current situation to what the group perceived as the better situation than the present one. It was a colorful era, where religious services, public fora, demonstrations, and marches became celebrations and creative stages of peoples' expressions and aspirations. There was a popular movement whereby the artists aligned themselves with a massive protest movement against Martial Law called the era of Protest Art.
This writer is one of the products of this movement which became an academy of cultural workers who were awakened to the following realizations:
This country has a rich and diverse culture that one can be proud of. Preserving and conserving these are processes to develop pride in one's identity
The cultural expressions, heritage, festivals, and celebrations maybe used as platforms of spreading messages to inform and influence
Everyone can be an artist as this is not the exclusive area of those schooled in fine arts.
4. When one is involved in creative processes, he/she helps develop and/or train others and helps organize a group of artists. These functions are divided into those of an Artist, Trainor, Organizer, Researcher (ATOR).
The post-Martial Law years broke the massive unity of artists and cultural workers then. The cultural workers are now spread all over. Many are sitting in government agencies and non-government institutions, members of the academe, and a good number were elected as formal leaders of the communities. However, what binds all of them is their adherence to a band of cultural work that can direct people in developing objectives and goals. Their works no longer adhere to a unifying social theme of the 1960s to the 1980s. The cultural workers bloomed wherever they were planted: choreographing street dancing, putting up theatrical shows that are translations of Western plays, holding concerts for the environment, and the dancing of expressions of their perspectives of and to the world. Some pick up the themes of peace, environment, beauty in nature, creatives, technology, among others. No longer is there a banner theme that binds all under one singular message as the artistic expressions diversified.
With all these, one significant unifying factor remained – culture is a potent agent and even a driver for change and for the purpose of this paper, a driver for development.
How is this then?
This writer will first discuss the definition of culture and would use the BIMP-EAGA's Road Map to Development and targets 2030. Then this writer proposes three simple steps in positioning culture as contributory to the latter.
A. Whole of Culture Perspective
Domain 1: Heritage, Tradition, Institutions (Everyone is born into a Culture)
These are the static or the formal monuments of culture. Everyone is born into these. One simply fits into what these pillars expect from each citizen. These are like molds that any citizen fits into. For example, every time one visits a plaza and sees the monument of Dr. Jose Rizal, one can imagine that the Philippines revolted against Spain through this genius of a writer who showed that the pen is mightier than the sword. Another example is that when one sees a pink mosque, one sees the religion of Islam that is innovative and is not directly in sync with the Middle Eastern concept of a white mosque, showing a more relaxed practice of Islam as a religion. When one sees the Butuan archaeological museum, one remembers and would feel proud of a glorious past.
What society makes of these shows a sense of pride. If these are allowed to be destroyed, then our identity will be lost.
Culture also includes knowledge, myths, traditions, or practices. These are the challenging parts of cultural heritage because these are not carved in statues or displayed in museums or in exhibitions. However, the good thing about them is that they can be documented, printed, published, and presented into audio-visual productions. The indigenous people communities are living exhibits of these traditions and practices. How society supports and helps them preserve their own cultural heritage shows the respect of a society to these communities.
Factors affecting these domains are: practices of religion, legislations, and indigenous knowledge systems.
Religion teaches what is good and what is evil. The path to what is good is the basic tenet of religion whether these are the pillars of the religion, the doctrines or the commandments from God. Legislations mold peoples' practices to what is legal or what is within the bounds of the law. Legislations also clearly outline what are illegal or what should not be done
Indigenous knowledge systems (IKS) also shape behaviors in a family, community, and society. These are normally the folk beliefs and traditions, wherein members of a family, community, or society practice as one automatically slips into the practice as soon as he/she is born.
Domain 2: Creativities, Art and Innovations (We are what we make of ourselves and of our societies)
2.a Creativities and Art (Human creative potential)
The first of this domain pertain to the human creative potential. These are the discoveries and inventions in culture. These are re-creation of existing heritage, practices, and institutions. Thus one can find art pieces that re-introduce new perspectives on heroes. Some are transformed into villains and some villains are made into heroes. Some traditions are being criticized and some are being emulated by artists. More often, the artists introduce new ways of looking at things or new world orders. This way, society finds a mirror to which they try to direct their own habits, behavior, and courses of actions.
The most influential forms of media are film and televisions because these are great investments. There are workers in this field who rake in huge sums of money when they are able to hit the popular sentiments of the time. When people need to escape from reality, these offer a safe escape. When people want to vent their anger and dissatisfaction, then this is a great medium to air their grievances. When people want to forget their own worries, then they resort to laughing at comedies that even laugh at their own foolhardiness.
2.b Innovations and Technology (The use of tools to further promote art and creativities)
In the information age, computers, social media, and transporters or holographic images are used to transcend the limits of the material time and space. It can be viewed whether the use of technology is for the human to be a master or vice versa. This is what is happening to the millennials today, whose world has been confined into the palm of his/her hand. This means that the millennials no longer seek the social support of people and the environment surrounding them. They obtain this in communities in the "cloud."
Domain 3: People's norms, behaviors and conduct (We are what we repeatedly do)
This domain talks about the actual manifestation of culture in people's behavior. Through empirical observations and careful documentation, a society's norm and collective behavior maybe captured and analyzed.
Positive stories of honesty, community action to save others, pooling of money to support a neighbor in need, and many more positive stories characterize the values of a community. Openness to dialogue and to communicate is another.
On the other side, there are also behaviors such as selling peoples' voting rights during elections and selling ones' principles to the highest bidder. Passing on stories without verification or reacting to every story being heard without verification, causes enmities, hatred, or anger.
B. BIMP – EAGA's Road Map to Development
In November 2004, during the 9th Ministerial Meeting in Balikpapan, Indonesia, the ministers agreed the formulation of the BIMP-EAGA Roadmap to Development which identified broad strategic thrusts for the sub region and cluster sector-specific targets that guide the implementation of BIMP-EAGA projects and activities.
The roadmap indicated four specific objectives:
(1) Promote intra and extra industry trade in selected priority sectors;
(2) Coordinate the management of natural resources;
(3) Coordinate the planning and implementation of infrastructure support; and
(4) Strengthen the BIMP-EAGA structures and mechanisms for effective implementation of the roadmap
One objective harnesses the dynamism of public and private partnership particularly in the emerging trade, tourism, and investment opportunities.
BIMP EAGA is clear with its targets in the tourism and heritage sector. Among its dynamic investment and market opportunities are part of the cultural assets of the region which include:

Can the cultural community harness these cultural assets plus a hundred more to contribute to the achievement of the 2030 targets of EAGA?
Represents 20% of BIMP economy from 15%, 2015
Exports double to $240 B from $120B, 2015
Intra-EAGA trade increases to 10% of total trade from 6%, 2015
Doubles Foreign Direct Investment (FDI) to $20 B from $10 B in 2015
Foreign and Domestic tourist arrivals up by 20% from 20M in 2015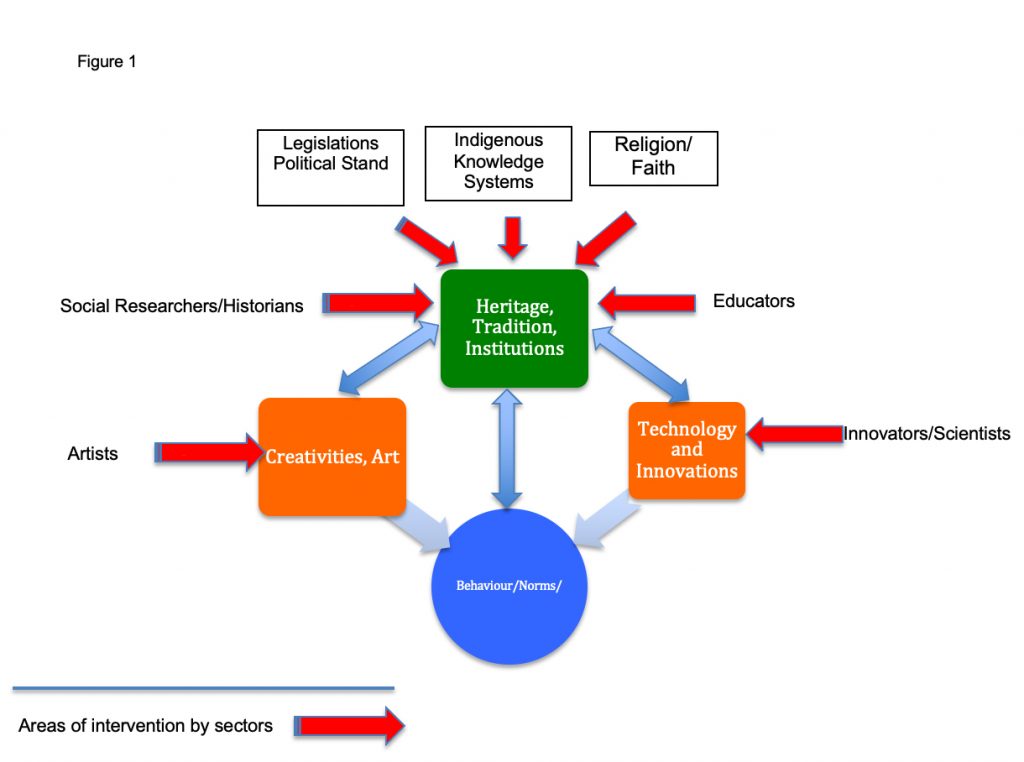 Expand the scope of those who shall be included in the cultural sector. They are those who fall within the realm of creativity, art, and technology. The Cultural Mapping and Inventory of Regional Artists in BIMP-EAGA is a good start. A study may be expanded to include all efforts in the region in preserving and conserving heritage and traditions; an inventory of creative arts, innovations, and technology; and clarifying values and norms of the peoples. The four countries may compare programs and initiatives on this regard and harmonize and synergize these into regional coordinated efforts.
Expand the cultural sector beyond the artists. Also as important are the social researchers, historians, cultural intellectuals and administrators, innovators, scientists, and educators. An expanded study of the sector to include other cultural workers and not only the artists may yield useful findings in the inventory and mapping of culture and cultural workers in the region.
Assign value to cultural assets and quantify their contribution to the economic value of the region. This approach will formally consider these as measurable assets in the region. There was an attempt at baselining the creative industry in the Philippines some 10 years ago. Other countries may have made good progress on this and maybe worth sharing for coordinated efforts. Putting value to the destruction of natural and cultural resources in order to quantify what are being lost can also be included here